Upcoming Events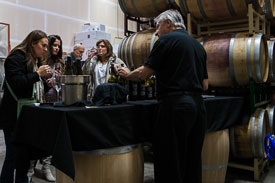 Below are the upcoming events. Check back often, new events are added regularly. Please sign up for our mailing list to be notified of new Stottle events.
Wine & Chocolate
Feb. 11-13 & 16-20 in Lacey
Feb 12, 13, 19,20 in Hoodsport

Don't miss our annual Valentines/Presidents wine & chocolate event. Giant, locally made, Stottle wine infused dark and white Chocolate Truffles from Blissful Wunders in Olympia to pair with our award winning wines. Add a truffle to any of our wine tasting options for just $3.95. Reservation or call ahead recommended on the weekends: 360-515-0356 in Lacey, 360-877-2247 in Hoodsport.

More Events coming soon, join our mailing list to be notified of new events.